Valle Nevado, Chile
What are you doing this summer?
Ski the legendary Chilean Andes from June to September and take advantage of exclusive wine and ski tours, food and wine festivals, and discounted packages that showcase the striking contrasts for which Chile is famous. With a strong dollar vs. the peso, low-cost airfare from the U.S. to Santiago, and early snowfall hitting the country's Central Valley last week—forecasting bountiful snow for the upcoming season—there has never been a better time for North American skiers and snowboarders to head south and experience the "endless winter."
Valle Nevado is South America's foremost ski resort, offering access to the largest amount of terrain and the most modern lift system on the continent. The resort is just 90 minutes from the Santiago International Airport in Chile, located at 10,000 feet high in the spectacular Andes Mountains, the 2nd-highest peaks in the world. An interconnect ticket to neighboring resorts opens 7,000 total acres of varied terrain, and Valle Nevado offers world-class heli-skiing directly from the resort. The Valle Nevado complex has boutique shops, six restaurants, a full-service spa and fitness center, cinema, library, bars and lounges, and breathtaking views of the magnificent Andes from every direction. The 2017 season runs from June 23 to Sept. 24.
As an open invitation for North Americans to chase the "endless winter" and enjoy what is expected to be one of Valle Nevado's and Portillo's best seasons in the past decades, the resorts have launched plenty incredible deals:
---
Buy 5 All-Inclusive nights, get 2 free
Book 5 nights at any of Valle Nevado's three hotels (Hotel Valle Nevado, Hotel Puerta de Sol and Hotel Tres Puntas) and get 2 nights free for any week between August 4 – 25.
Rates include lodging, transfers in/out Santiago AP, lift tickets, and half board (breakfast and dinner), offering skiers and snowboarders substantial savings and an easy-to-book package ski vacation.
Prices start at $1,547 per person for 7 nights double occupancy (Hotel Tres Puntas), and include 2 interconnect tickets that open up a massive 7,000 acres of terrain.
The Buy 5 Get 2 deal must be reserved with a paid deposit before June 22, 2017, and is subject to availability.
---
Fly Delta Airlines to Chile and save 15% on Ski Packages
Valle Nevado has partnered with Delta Air Lines to offer special savings to North American skiers and snowboarders: fly Delta to Santiago, Chile, and the resort will knock 15% off hotel packages and condo rentals.
Hotel packages include lodging, lift tickets and half board, with prices starting at U.S. $479 per person for 3 nights / 4 days in double occupancy.
The Delta discount requires a minimum stay of 3 nights but can be used throughout the season, with no blackout dates, and the discount does not apply to airfare.
---
Ski In and Wine Out
Valle Nevado offers a special promotional package with the Hotel Santa Cruz, located in the heart of the Colchagua Wine Valley, 2 hours south of Santiago. Book a combination package and receive 15% off stays in any of Valle Nevado's three hotels, and 15% off a stay in the Hotel Santa Cruz.
Conditions:
Not available for single rooms or suites.
Requires a minimum of 3 nights at both properties.
Valid from June 23 to September 22
---
Experience the extremes of Chile & from snow capped mountains to the driest desert on earth
The Chile experience of a lifetime with a post-Valle Nevado trip to the stunning and otherworldly Atacama Desert, a region replete with pastel-washed volcanoes, jewel-toned lakes, bone-white salt flats, and the charming adobe village of San Pedro. The region is considered the world's finest place to stargaze, and winter temperatures are pleasant, making it a year-round destination.
If you combine your stay between Valle Nevado and the Alto Atacama Desert Lodge as well as book a minimum of three nights at each property, you will receive 20% off all-inclusive rates.
Conditions:
Valid for the Hotel Valle Nevado only.
Not available for single rooms or suites.
Valid from June 23 to September 15
---
Ski Arpa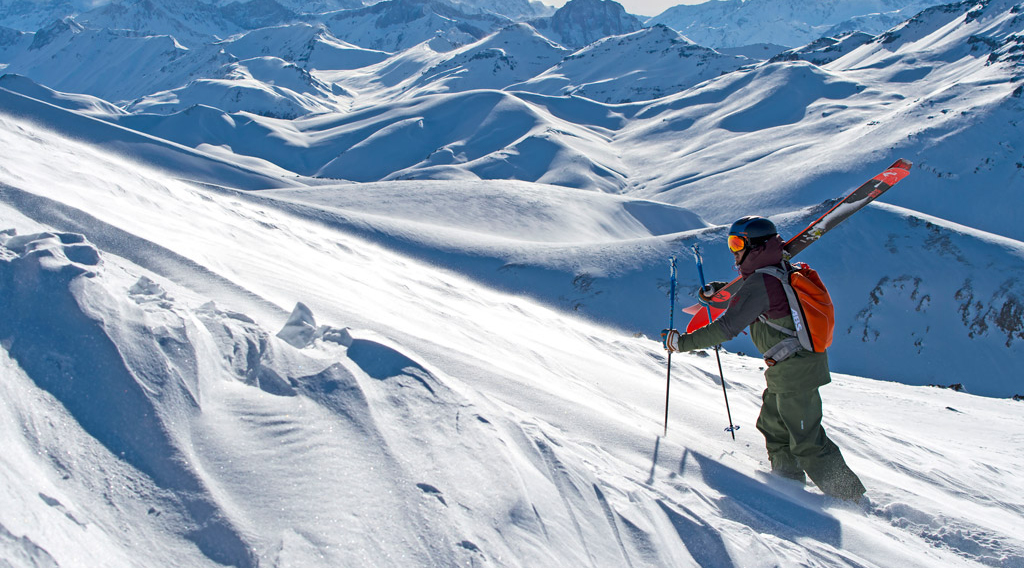 Ski Arpa is South America's only fully snowcat serviced ski resort, well-known for deep powder and panoramic views of the Andes Mountains including the highest peak in the western hemisphere, Aconcagua.
SKI ARPA EXPRESS PORTILLO EXTENSION 2 DAYS/1 NIGHT & 1 DAY OF CAT SKIING
A place unlike any other in the world, Valle El Arpa is sweet music to the skier's soul. Unparalleled vertical snow conditions and views of Mt. Aconcagua make for an unforgettable adventure at South America's only fully snowcat-serviced ski operation. In an anything but typical day, you will ski over 13,000 vertical feet of some of the best untracked powder in the world. Intermediate or advanced level of skiing experience required.
What's included: All ground transportation, 1 night lodging ,meals and 1 day cat skiing
Price per person: $868
If you would like to head further south and explore other South American ski destinations such as Termas de Chillan, Corralco, Las Lenas, Caviahue, Cerro Catedral (Bariloche) and Cerro Castor (Ushuaia), please contact us for custom-made package.
---
Valle Nevado, Chile
Exclusive mountain resort with limitless heliskiing.
Valle Nevado is the gateway to the Three Valleys of the Andes, which includes El Colorado and La Parva. Valle Nevado is Chile's newest and most modern resort, located just 37 miles from Santiago's international airport amid breathtaking landscapes in the Andes Mountains. The three interconnected ski resorts offer 65 miles of ski runs and 24,000 acres of skiing, accessible by 43 lifts— all above the tree line at 10,000 feet. It's the largest skiable acreage in the Southern Hemisphere with an abudance of sun and quality snow.
Contact us for more information
---