Portillo, Chile
What are you doing this summer?
Ski the legendary Chilean Andes from June to September and take advantage of exclusive wine and ski tours, food and wine festivals, and discounted packages that showcase the striking contrasts for which Chile is famous. With a strong dollar vs. the peso, low-cost airfare from the U.S. to Santiago, and early snowfall hitting the country's Central Valley last week—forecasting bountiful snow for the upcoming season—there has never been a better time for North American skiers and snowboarders to head south and experience the "endless winter."
Portillo is one of the most unique ski resorts in the world. Why? Because Portillo offers extraordinary terrain, breathtaking surroundings, and an abundance of amenities and indoor activities – for just 450 guests. As other ski resorts become bigger and more impersonal, Portillo continues to handcraft its vacations. For more than 60 years, the owners of Portillo have strived to keep the hotel and ski center small and intimate, yet with all the modern conveniences guests have come to expect. The season opens mid June and closes the first week of October.
As an open invitation for North Americans to chase the "endless winter" and enjoy what is expected to be one of Valle Nevado's and Portillo's best seasons in the past decades, the resorts have launched plenty incredible deals:
---
Ski Week + Free night in Santiago
Book your ski week in August and receive a one night complimentary stay in Santiago at Gran Hyatt Santiago or at The Ritz-Carlton Santiago
Jul 29 – Aug 05 | Aug 05 – 12 | Aug 12 – 19 | Aug 19 – 26 | Aug 26 – Sept 02
Conditions:
Valid for stays of a minimum of 7 nights (Portillo ski week) only.
Valid with reservations in the Portillo Hotel and Chalets. (Inca Lodge and Octagon not included)
Free night in a Santiago hotel is in a Single or Double Standard room and includes breakfast only.
---
Sun & Ski Adventure in Chile
Combine a ski week in Portillo with an all-inclusive Tierra Atacama stay and receive a 20% discount on both properties.
Conditions:
Valid for Tierra Atacama (all-inclusive program) reservations minimum 3 night stay.
Valid for Hotel Portillo reservations for a 4 night Mini Ski week (Sat to Wed) or a 7 night Ski Week (Sat to Sat).
Dates: June 24 – October 01
---
Two kids skis free
For this promotion each mother and father who pays a full rate in the hotel may bring one of their children between 4 and 11 years old (inclusive) for a ski week in Portillo during the following weeks: July 08 – 15 / Sept 23 – 30
Conditions:
Offer valid for parents and their children only (4-11 years old)
Promotion valid for a maximum of two children free per family.
Children to occupy the same room, or same type of room as parents, chosen and paid for by parents.
Promotion valid for all types of rooms except Suites and the Inca Lodge.
---
Ski Arpa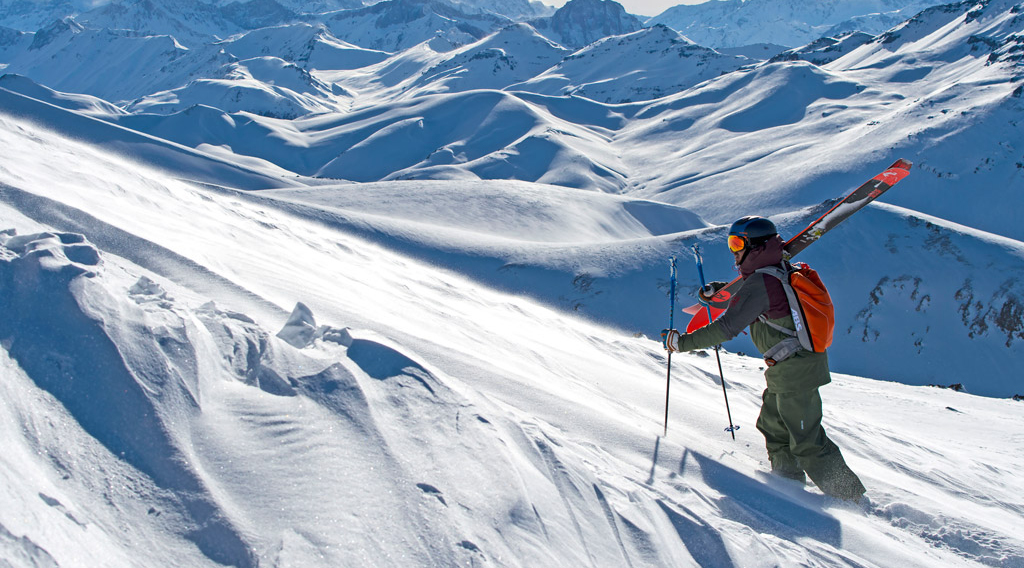 Ski Arpa is South America's only fully snowcat serviced ski resort, well-known for deep powder and panoramic views of the Andes Mountains including the highest peak in the western hemisphere, Aconcagua.
SKI ARPA EXPRESS PORTILLO EXTENSION 2 DAYS/1 NIGHT & 1 DAY OF CAT SKIING
A place unlike any other in the world, Valle El Arpa is sweet music to the skier's soul. Unparalleled vertical snow conditions and views of Mt. Aconcagua make for an unforgettable adventure at South America's only fully snowcat-serviced ski operation. In an anything but typical day, you will ski over 13,000 vertical feet of some of the best untracked powder in the world. Intermediate or advanced level of skiing experience required.
What's included: All ground transportation, 1 night lodging ,meals and 1 day cat skiing
Price per person: $868
If you would like to head further south and explore other South American ski destinations such as Termas de Chillan, Corralco, Las Lenas, Caviahue, Cerro Catedral (Bariloche) and Cerro Castor (Ushuaia), please contact us for custom-made package.
---
Portillo, Chile
International ski resort in a majestic Andean setting.
Portillo has been South America's premier destination ski resort for more than 50 years. Located high in the majestic Andes at the edge of the Lake of the Incas, Portillo is known for spectacular scenery, extrordinary terrain and superb hotel ambiance. Just two hours from Santiago via a modern highway, Portillo has just one grand hotel and feels almost like a private club. The resort has a capacity of 450 guests offering ski-in/ski-out facilities, uncrowded slopes and no lift lines.
Contact us for more information
---