Iceland – Europe's Land Of Fire & Ice!
Iceland is a volcanic island located in the North Atlantic Ocean, 300 km east of Greenland and 900 km west of Norway. The main island, which lies south of the Arctic Circle, covers an area of 103,000 km, which is roughly the size of the U.S. state of Virginia or slightly bigger than Ireland.
Iceland is a land sculpted by lava and ice, where geysers burst and glaciers gleam and emerald valleys stretch all the way to the ocean. On an exhilarating journey, encounter this wonderland of geological extremes close up and experience the mighty forces still shaping the landscape!




Number of days/nights: 9 days/ 8 nights
Dates: February 24 – March 4, 2017

Place of arrival: Reykjavik
Place of Departure: Reykjavik

Package price:
$2650 per person based on 2 people
(Supplement if less than 25 people: $175.00)

NOTE: TRIPLE ROOMS ARE AVAILABLE BASED UPON REQUEST

SINGLE OCCUPANCY SUPPLEMENT: $700.00
EASY, FLEXIBLE payments

Your Package Includes:
7 night lodging including tax and breakfast at the following hotels (or similar):

3 nights Reykjavik at 4* Hotel Reykjavik Centrum
2 nights Vik 3* Hotel Dyrhólaey (this hotel is tentative as we are waitlisted on a different hotel)
1 night Selfoss 4* hotel Selfoss / 1 night Snaefellsnes peninsula 3* Hotel Stykkishólmur

All transfers
Arrival welcome Icelandic breakfast
Arrival welcome dinner at Grillmarkadurinn including 1/2 bottle wine or 2 beers per person
3-course dinner with a local family in the Greater Reykjavik area including transfer and wine/beer
4 x 3-course dinners or buffets in the countryside including coffee/tea and table water
Fully guided tours
Blue Lagoon entrance, towel and a cocktail served into the lagoon
Entrance fee to Tomato Greenhouse with tomato taste and cup of soup
Entrance to Geothermal Powerplant
Entrance to Skógar Folk Museum
Lunch stop at Thorbergssetur close to the Glacier Lagoon
Entrance to Settlement Center in Borgarnes (one exhibition)
Entrance to Bjarnarhöfn shark farm with shark taste and snaps
Tour manager at group's disposal
Your Package Doesn't Include:
Airfare (currently at around $650.00)
Travel insurance
Airport transfers if not arriving or departing with group suggested flights
Beverages, snack, lunches, dinners unless otherwise noted
Room outside of normal check-in/check-out times
Porterage at airport and hotels
Gratuities for the guides and the drivers
Optional excursions, activities, museums or pre and post trips not mentioned above
Any service not specifically listed under "included"
Unforeseen admission to nature sites
OPTIONAL TOURS:
To be advised.
THINGS TO KNOW:
Tour activity level is medium to high (hiking, walking)
Group schedules, hotels and activities subject to change at any time
Group meals are pre-chosen. We can accommodate allergies and intolerances only
Itinerary:
DAY 1 February 25 – Arrival – Keflavík – Reykjavík (B, D)
Arrive in Iceland, "Land of the Midnight Sun" and transfer to a local restaurant for an Icelandic welcome breakfast. Continue to your hotel and admire the panoramic view in route. Your guide will point out locations and interesting facts along the route. (45 minutes). Most flights arrive in the early morning and your room may not be ready for you. In this case, leave your luggage with the concierge. Spend the rest of the afternoon at leisure to explore Reykjavik, the world's most northerly capital, surrounded by incredible landscapes and countless natural wonders.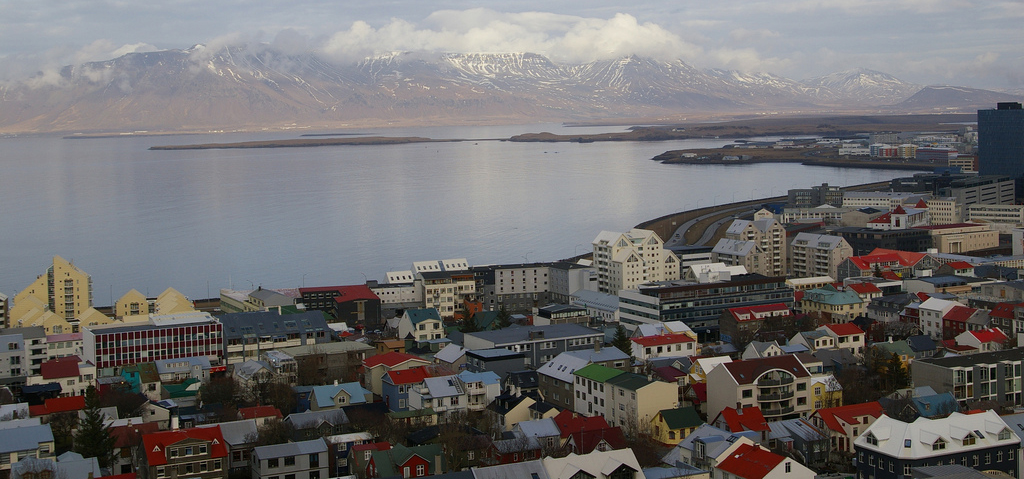 Evening:
Welcome Dinner Reception with wine/beer at a Grillmarkadurinn (the Grill Market)

DAY 2 February 26 – Morning City Sightseeing – Afternoon Blue Lagoon Tour (B, D)
After breakfast, drive into the capital for a morning city sightseeing tour of Reykjavik. Start by driving through the picturesque Viking village of Hafnarfjörður and moving over to Bessastaðir, where you can see the residence of the Icelandic President. The tour traverses the old town center to the Parliament, the Cathedral, the harbor, the National Museum and the Höfdi House, site of the 1986 Iceland Summit where Reagan and Gorbachev met. The tour also includes a stop at Perlan, located on the Öskjuhlid hill, which offers a spectacular view over the capital area. Pass by the outdoor swimming pool heated by geothermal waters and a museum dedicated to the renowned sculptor Asmundur .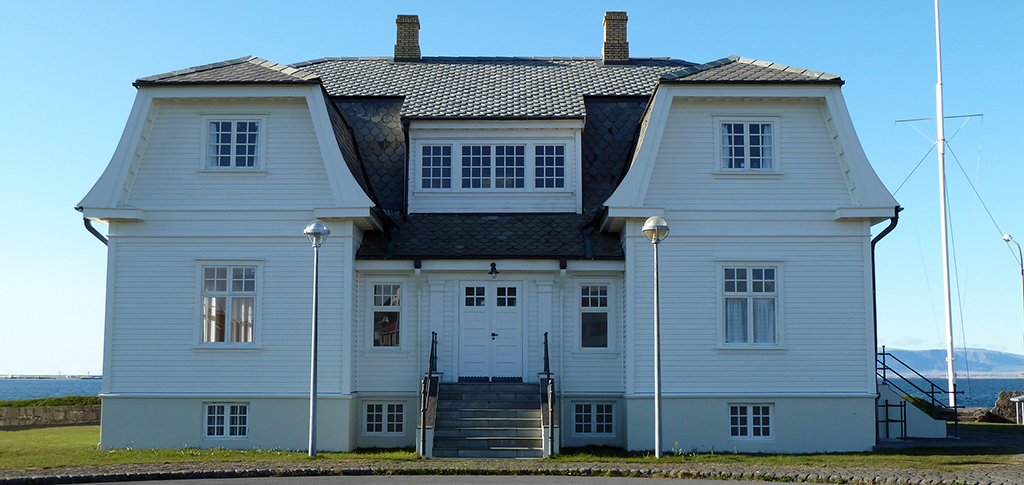 Our next stop of the day will be at the beautiful Blue Lagoon. We drive through rugged lava fields to the Blue Lagoon, a unique natural pool of mineral rich geothermal water located in the middle of a lava field in the pure and beautiful Icelandic wilderness. The Blue Lagoon is known for its special properties and its beneficial effect on the skin and attracts visitors from all over the world in search of health, relaxation and an exotic experience. We stop for a refreshing swim in the pleasantly warm mineral-rich water, reputed for its healing properties. Blue lagoon entrance fee, towel and cocktail included.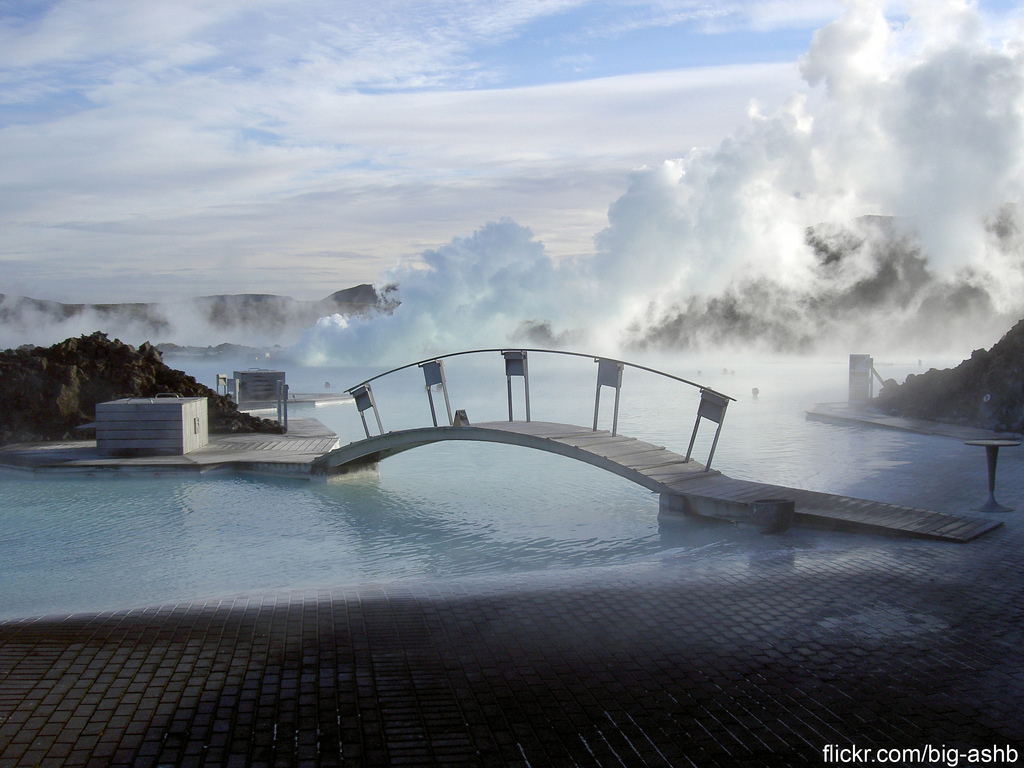 Dinner with local families! The group will split up in max 8 persons per group and be transferred to different homes of families in the Greater Reykjavik area. Excellent way to get to know the culture, the local people and their way of life.

DAY 3 February 27 – South Shore (B, D)
Hotel check-out and departure from Reykjavík to Hellisheiði where we make a stop at the Hellisheiði Geothermal Powerplant, the second largest geothermal plant in the world. During your visit, you will learn how geothermal energy can be utilized in a sustainable manner and is a showcase for geothermal's global role in a renewable and sustainable future.
After the tour, we head east passing Hveragerði town where geothermal energy has been extensively harnessed for the greenhouse industry. Onwards we travel through the rich farmlands to the majestic mountains, where the renowned volcano Hekla can be seen on a clear day. We travel to Seljalandsfoss and Skógafoss, two of the numerous waterfalls along the coast. We will drive up to Sólheimajökull Glacier, an icefall from Mýrdalsjökull, where you can see and feel the impact that global warming has had on Icelandic glaciers.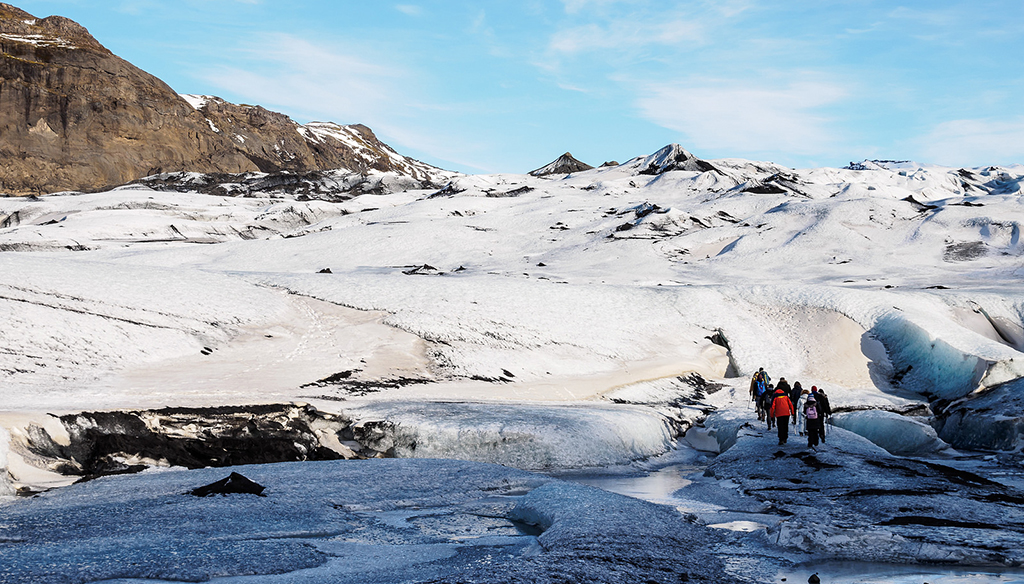 We continue on to the Dyrhólaey nature reserve or Reynisfjara Beach (depending on season and weather) where we get a beautiful view of the coastline from either location. We continue to the small town of Vík for an overnight´s stay.

DAY 4 February 28 – Skaftafell National Park – Jökulsárlón Glacial Lagoon (B, D)
Please note: This day is a long day.
Today we drive from Vík stopping in the small town of Kirkjubæjarklautur which is a former Catholic Convent site from the 12th century.
We continue on over Skeiðarársandur outwash plains to Skaftafell National Park, one of Iceland's most outstanding points of natural beauty, dominated by Vatnajökull Glacier, Europe's largest ice cap. We enjoy the contrast of lush vegetation and barren slopes and the magnificent views one gets of the peaks in Skaftafell. We will drive as close as we can to Svínafellsjökull glacier for a nice view of one of Europe´s largest glaciers.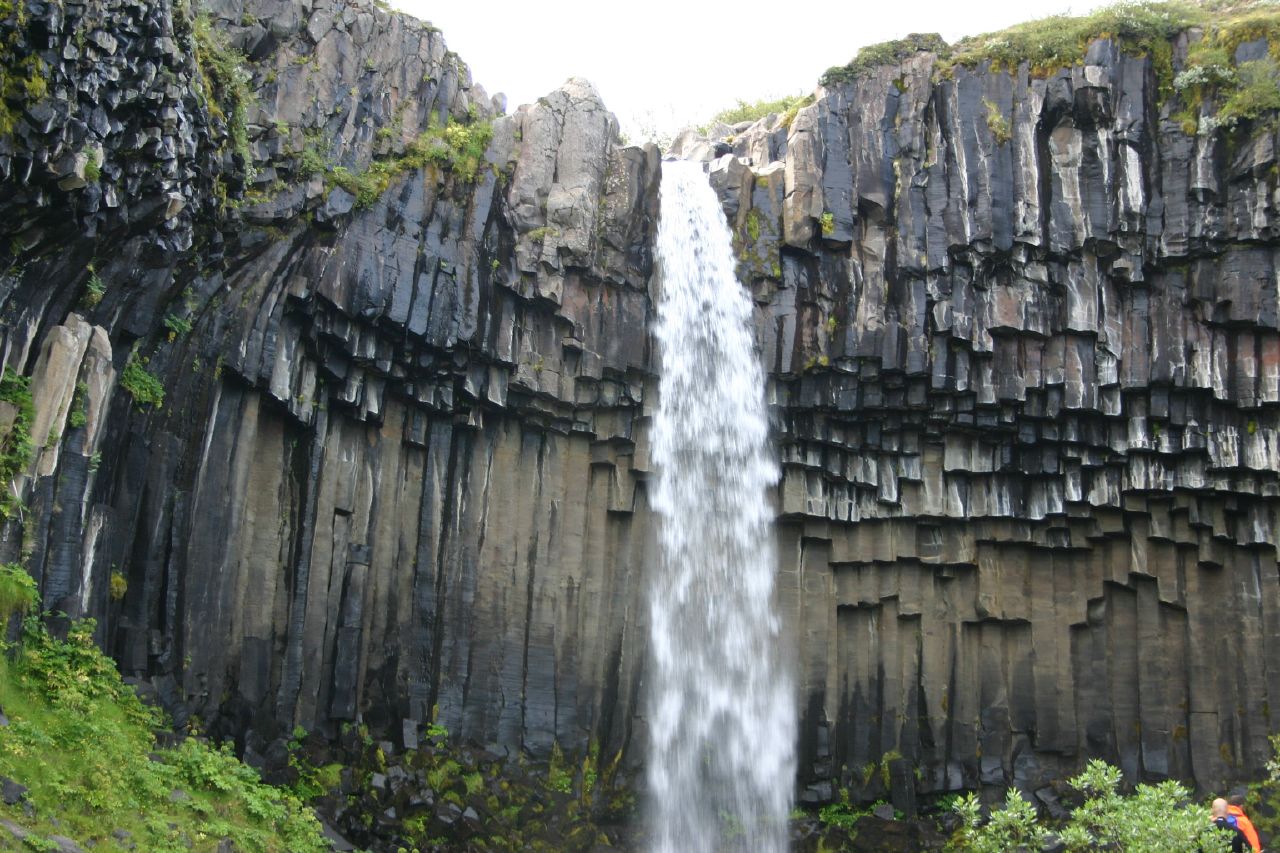 From here we continue on to the Jökulsárlón which is the largest and best-known glacial lake in Iceland. The lake is approx. 200 meters deep and now probably the second deepest lake in Iceland. The lake is located at the south end of Vatnajökull glacier.
Jokulsarlon appeared first only in 1934-35 and it grew from 7.9 km2 to 18 km2 in 1975, due to heavy melting of the glacier. It is not possible to do the Glacier Boat tour during the winter months, but you will be able to see the site and make beautiful pictures.
We will enjoy a late lunch in Thorbergssetur Restaurant.

DAY 5 March 1 – Gullfoss – Geysir –– Selfoss – Þingvellir (B, D)
We will drive again on the South Shore and in case we missed anything on day 3, we will pick it up on the way. We will visit the Friðheimar Tomato Farm. Here we get an insight into Greenhouse horticulture.
We continue on Geysir geothermal area to see the famous great Geysir and the hot spring Strokkur spouting every few minutes. From Geysir it is only a short drive to Gullfoss café where you are able to purchase your own lunch and walk on to Gullfoss waterfall, one of Iceland's most impressive waterfalls.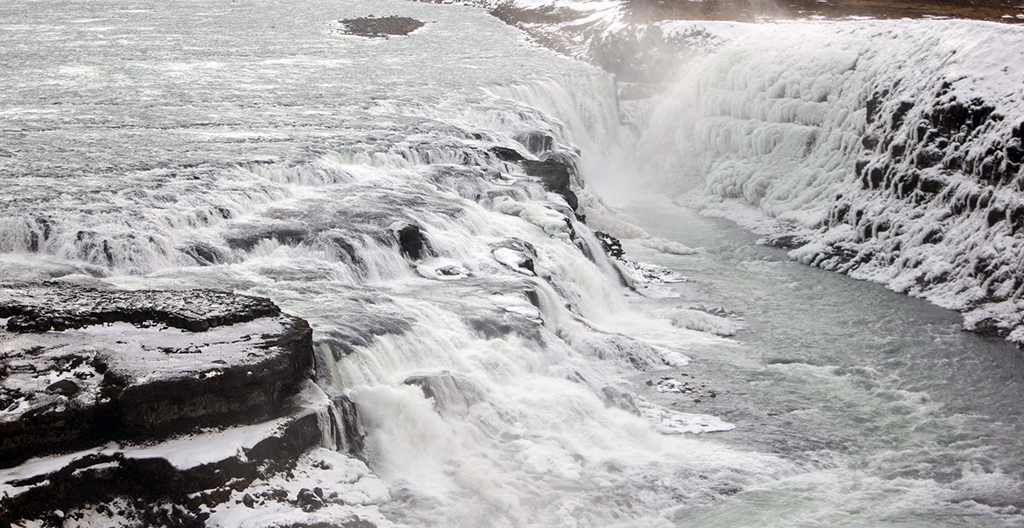 The mighty Hvita River appears to simply vanish into the earth, but a closer approach reveals gorgeous staggered falls plunging into a crevice over 100 feet deep.
The next stop is Þingvellir national park, a UNESCO heritage site and a place of tremendous interest as a primary site of both Iceland's geological and historical inheritance.
Our accommodation will be in Selfoss.

DAY 6 March 2 – Borgarfjörður Valley – Settlement Center – Snæfellsnes (B, D)
Today we will go to Borgarnes either via Thingvellir or Reykjavik. We will start by driving to Hraunfossar falls and the historic Reykholt, home of medieval chieftain, scholar and poet Snorri Sturluson. We will also make a stop at Deildartunguhver, Europe's most powerful hot spring.

After breakfast we drive to the town of Borgarnes where we visit the Settlement Center. The Settlement Center offers an opportunity to learn about the settlement era, the Vikings sailing across the Atlantic ocean in the year 800, how they found Iceland and where they settled. It gives a perspective on the people and the culture of Iceland in a concise way.
From Borgarfjörður we drive to Snæfellsness peninsula, Green Globe Benchmarked region, making it a model for sustainable tourism. Drive through the Mýrar district through moors and lava fields and past the regularly shaped extinct volcanic crater Eldborg. On a clear day we will enjoy a view of the mystic Snæfellsjökull glacier. Snaefellsnes is a unique area with a variety of geological interests such as lava fields, volcanoes, glacier, mineral springs, beautifully formed rocks, yellow and black sand beaches as well as caves and very interesting bird colonies during summer.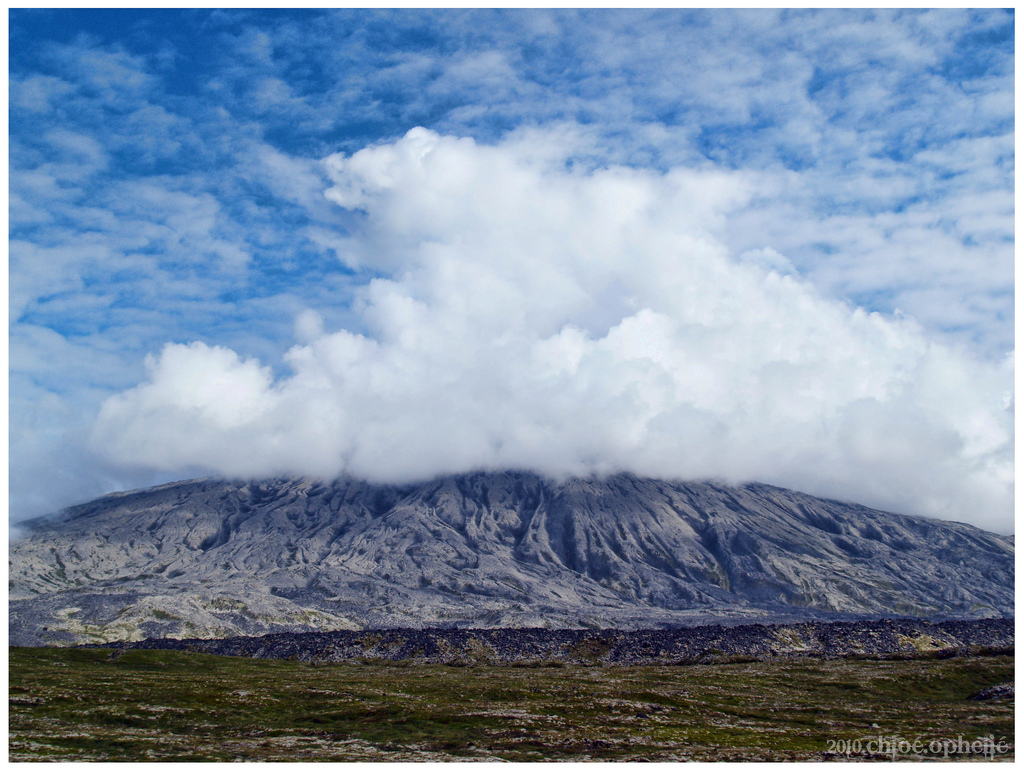 The best-known attraction is without doubt Snaefellsjokull glacier, a beautifully shaped strato volcano at the very end of the peninsula. The glacier and the unspoiled natural wonders surrounding it is the scene of Jules Verne's classic novel Journey to the Center of the Earth and is rumored to be one of the seven most magical sites on Earth.

DAY 7 March 3 – Stykkishólmur – Snæfellsnes –– Reykjavík (B)
The day begins with a drive to Bjarnarhöfn Farm which is the region's leading producer of a traditional Icelandic dish known as "hakarl" (cured shark meat). The farm offers a unique history of the locality and you can learn about the Greenland shark, its habits, biology, and much more. After the visit to the shark farm, we drive over to Arnarstapi and finally, drive back to Reykjavik in the afternoon with the evening free at leisure to catch up on last minute shopping or to explore the city independently.
Evening is free at leisure.

DAY 8 March 4 – Morning at Leisure: Afternoon departure
Departure: Your private bus and guide will pick you up approx. 3 hours before flight departure and take you to the Keflavík International Airport.
End of program.

Notes:
Deposit and Payment Policy:

Alpine Adventures will collect all deposits, fees and final payments per the schedule below:

Initial Deposit: $650 per person to confirm program.
Second Deposit: November 10, 2016 – 50% of package cost.
Final Payment: January 10, 2017 – Final Balance

Airfare is completely nonrefundable once tickets have been issued. For any changes to dates or itinerary once tickets have been issued, a $75 service fee plus any applicable airline imposed fees will apply.

Travel Cancellation and Refunds

We strongly encourage purchasing travel insurance at 6% of the total cost.

Cancellation:
Cancellation refundable within 5 days of initial deposit paid less service fee of $100
Cancellation outside 90 days = 80% charge of the deposit paid
Cancellation inside 90 days = 100% nonrefundable
Contact us for more details:

Tessie Kenela
call 954-564-6722 x202 or
email: tessie@alpineadventures.net